Have you ever dreamt about having your own home on wheels with everything you need to live and travel the open road?
– find out how to build your own dream van-home
Making a old empty van into your home can be daunting project if you've never done it before. I mean, where do you start? What do you need? How much will it cost? And how can you be a plumber, electrician and joiner all at once when you know nothing about that stuff?
If you want to know exactly how I transformed this van (shown in the picture above) with zero woodwork or van conversion experience then this book is for you. I believe that anyone can do this with a bit of time and patience. I'll take you through the whole process in simple, detailed steps. From Van to Home (ebook) This ebook has everything you need to know to make a van into your home – and much more!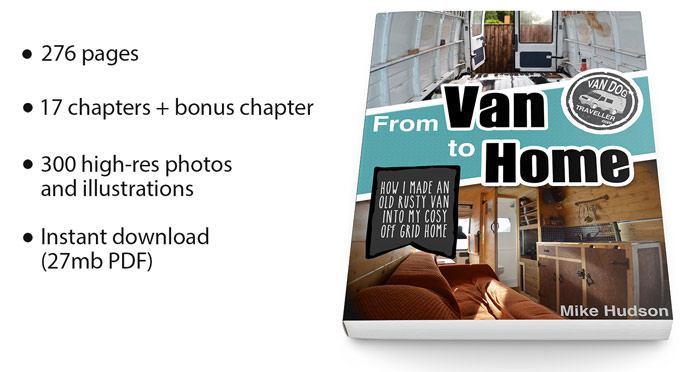 This book will show you – from start to finish – exactly how I converted an old, rusty van into a highly functional off-grid home – the place I've been living for the past year. You'll learn how you can do it for yourself. Along the way I will share the things I learnt, including all of my ideas, tricks, tips and solutions to potential problems.
Here's what you'll get from this book:
Learn about what you'll need to convert a van, including time, cost, tools and skills
How to choose the right van to give yourself the best chance of succeeding
How to prepare the van to protect your investment and make it last for years to come
Water, gas and electrical system explained with examples and illustrations
Learn how to make your van into an off-grid home using solar panels – be free to go anywhere
A full detailed explanation of the electrical system (including diagrams) starting from basic electronics – no one will be left out
Follow the progress of my van conversion as you go through the book
Learn from my examples, research and mistakes
The book will provide you with many ideas, tips and tricks that you can use immediately
Everything you need to know to make a van into your home and more!
Over 300 illustrations and high resolution photographs
This is the book that I wish I had when I was converting my van
Why make a van into your home?
You pay no rent
You can live anywhere you like
You're closer to nature but still with home comforts
You can live independently of the grid – no electricity or gas bills
You'll meet amazing people and experience the magic of living on the road
Nothing beats the freedom of having your home on wheels
Travel and live for cheap
This will be a home that you can truly call your own
My van conversion (what this book is based on) has been featured all over the world, from national press in England, major news websites in the far easy and television in North America. Now I'm ready to share every detail of how I did it, so you can do something very similar. It's all right here, as an instant download, in this one book.
A look inside the ebook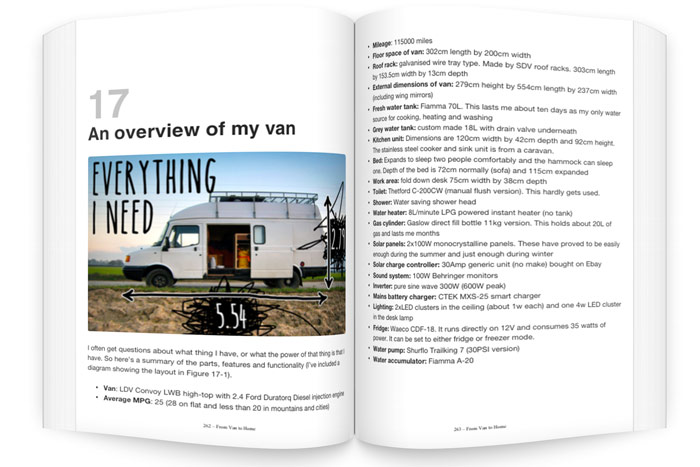 Bonus
You will also get a bonus chapter on how to stay productive and on track. There's a project plan chart to download to help you get your van conversion project completed efficiently and as fast as possible.
What others say:
It is very detailed with excellent close-up color pics and detailed instructions. I recommend it for anyone who is wanting easy to follow DIY converting about any vessel or building a tiny house... I really, really *Like* it!
–– Cheryl Andrus
Plenty of information on there with advice which even beginners, like myself, will find useful
–– Nick Boyle
I'm so pleased you included a basics guide for the electronics. And the rust treatment, plumbing and gas bits are also really helpful for me
–– barbarossa1984
Just wanted to say a big thanks. After 8 weeks of toil I finished and moved in to my van last week. Your book was so helpful and your blog was the inspiration for me to start the journey
–– Jamie
Filled with clever and realistic info! Dream of life on the road? Get it!
–– Abigail @abbymaxx
My promise to you:
I'll give you 30 days (enough time to go through the book) to see if it was worth your money or not. If you are not satisfied or feel like it wasn't worth the money, let me know and I'll issue a full, no hassle refund. That's a promise from me.
Feed your van dream now!
P.S. I'm writing this from my van. I'm now in Croatia, by the sea. Hopefully I'll see you on the road soon...
P.P.S. By buying this book, you'll be directly supporting the running of this blog and keeping me on the road. So thank you!
And if you have any questions just
contact me